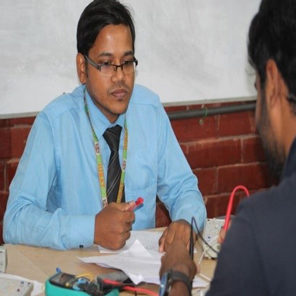 Suman  Chowdhury
Assistant Professor
MSc (DUET)
BSc in EEE (KUET)
Room # 415   Ext # 403
E-mail : suman@iubat.edu
Suman Chowdhury is a faculty in the Department of Electrical and Electronic Engineering, IUBAT, Internal University of Business Agriculture and Technology, Uttara, Dhaka, Bangladesh.
He was born in Chittagong. Mr Chowdhury completed his SSC from Chittagong Municipal Model High School and HSC from Chittagong Govt. City College, and then pursued his Bachelor of Science in Electrical and Electronic Engineering from Khulna University of Engineering & Technology (KUET) in 2012.
He achieved Merit/Technical Scholarship several times from KUET and other educational institutions. He has published over 15 research papers in different international conferences and journals. His research areas include Building Integrated Photovoltaic and Renewable Energy.